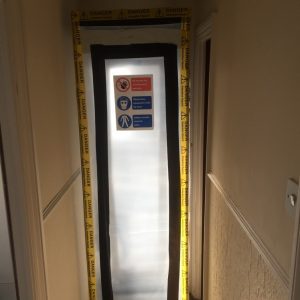 Asbestos can be removed by yourself (not recommended and only low risk cement bonded asbestos), non licensed asbestos removal contractors/businesses (for both Non Licensed and Notifiable Non-Licensed Work) and fully licensed contractors/businesses (for Notifiable Work). Anybody who undertake asbestos Non Licensed works in accordance with; Control of Asbestos Regulations and all associated codes of practise should undergo training. When removing NNLW and NLW asbestos, there needs to be risk assessment prepared and must be carried out with the appropriate controls in place. To protect themselves and others around them, full training should be given. Therefore DIY removal is strongly inadvisable.
What to look for when contacting an asbestos company
For notifiable non licensed or non licensed work such as;
Textured coating
Asbestos garage roofs
Asbestos sheeting
Small or minor tasks on AIB
Asbestos water tanks
We recommend looking for a company who is fully established with good reviews on third party platforms. A professional contractor or asbestos removal company will always give you a consignment note with proof of disposal in a reputable waste transfer station. Remember, even with low risk asbestos materials there are still dangers when handled by somebody untrained.
For license work including;
Sprayed coatings
Pipe lagging
Loose fill insulation
AIB boards where removal is of a long duration
Other highly friable asbestos containing material
Be sure to find a company who is fully licensed. These are granted by the HSE and can be anything from 6 months to a maximum of 3 years. The license has to be renewed and applied for through the HSE who then carry out stringent site visits. You can check the HSE register for fully licensed companies/operatives. The Asbestos Removal Contractors Association (ARCA) is the leading trade association in the field of asbestos management services. You can find operatives/companies who carry out asbestos removal through their database.
Smart Asbestos Solutions
If you are looking for an asbestos removal company is Essex, London and Kent, then Smart Asbestos Solutions is a trusted and reliable company who offer free quotes. Contact the experts – Click Here