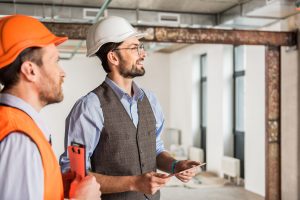 With more and more information being released regarding the dangers of prolonged exposure to asbestos, asbestos surveys have become more integral in the battle to rid British buildings of asbestos.
But have you ever wondered what a professional does whilst conducting this survey?
Below we will have a deeper dive into what they look out for, how a professional does it and most importantly, why you need to have an asbestos survey conducted on your property.
What Is An Asbestos Survey?
An Asbestos survey is a crucial part of any comprehensive asbestos management plan. They are the best way to establish any risks that are present from possible asbestos containing substances.
If there is no evidence that asbestos is on your property, it is often assumed that the building does not contain asbestos. This leads to a variety of situations where asbestos has been wrongly assumed to not be present. You can see where the problem lies.
Should your home, or one you own, have been built before 1999, then it is a requirement that an asbestos management survey is always in place. If it is identified that your property does have asbestos, then you must have regular surveys on an annual basis.
This means that an asbestos survey is not an optional extra. It is a legal requirement to have one carried out. It is even a requirement for the Control Of Asbestos At Work Regulations!
If it is found that your property does contain asbestos, then there are a number of things that will need to be checked for an asbestos survey. These include:
Where the asbestos is located.

What type of asbestos is present.

The condition that the asbestos is in.
How much asbestos there is on your property.
Any action that needs to be taken to safeguard the people inside the property.
Unfortunately, asbestos surveys are not a one and done kind of ordeal. Where asbestos has been identified, it needs to be regularly inspected to check for any possible deterioration that may lead to possible exposure. Should you wish to construct on a property with asbestos, a survey will also need to be carried out before any works are completed.
What Types Of Asbestos Survey Are There?
There are three main surveys that can be carried out, and all for different reasons. To conduct a survey, the individual is required to be accredited or certified as an asbestos surveyor.
They are as follows:
1)Management Survey –
This will be the first type of survey that will be carried out on your property. This will establish if your property does contain asbestos and will draw up a management plan with how to move forwards. Samples will be taken to establish what type of asbestos your property has and to help develop the best management plan. This will be carried out regularly to check for any deterioration of asbestos that has been found.
2)Refurbishment Survey –
If you plan to have works carried out that involve any change to a property with asbestos containing materials, then a survey will need to be carried out. This will need to delve into what refurbishment is taking place, and how it may affect or damage any asbestos on the property. This will be quite an intrusive survey and may take some time to complete.
3)Demolition Survey –
This is not one that will likely affect homeowners, but if a building is required to be destroyed, a survey will need to be carried out. This will also be an intrusive survey, and will evaluate the risks of exposure from demolishing the building, and identify any areas that need to be addressed.
What Is The Point Of An Asbestos Survey?
As asbestos was an incredibly popular building material prior to being banned in the UK before 2000, there are likely many buildings across the country that still in fact contain the material. If the asbestos is disturbed, it becomes deadly to the people living or working in the area.
So a vital part of the survey is to identify where the asbestos is so that it does not become damaged. Asbestos can also often be hidden in other materials such as concrete or insulation. This means it often takes a skilled eye, and a trained professional, to evaluate a property and determine the scale to which asbestos is present.
You may wrongly assume that there is only one point to an asbestos survey. To identify asbestos and that's it. You are not wrong in assuming that this is part of the survey. But you are also missing a key part to the survey that is vitally important. The management of risk is also another very integral reason why they need to be undertaken.
They help businesses and homeowners live safely with asbestos that cannot be removed (or is far too costly to do so). With an asbestos survey you can have professionals identify the risks to you, and plan to work safely within the building. You can also from the survey discuss the option of removal of the asbestos if possible.
So What Happens After The Asbestos Survey?
Hopefully, this has provided you with a bit more comprehensive information regarding an asbestos survey. There are a number of steps that you can take after the survey has taken place.
Upon completion, the expert will provide you with all the information you will need to tackle and manage the asbestos. This way you can feel safe in the knowledge that the occupants, workers and even visitors have a minimal to no risk of exposure to asbestos fibres.
Remember that asbestos management is not a one and done thing, it needs to be constantly assessed and managed to ensure your safety. So you will likely need another survey to be carried out in the not too distant future.
Should you have had an asbestos survey done and need removal of the asbestos, you can request a quote from our website here.